O. T. Frasch home
Otto Theodore Fraasch (O. T. Frasch)
September 26, 1882 - January 24, 1958
Otto Theodore Fraasch was born September 26, 1882 in Jefferson, Wisconsin. His parents (Heinrich and Augusta) immigrated from Germany in 1871 and settled in Bellingham, Minnesota, following members of their families who had preceded them. They raised potatoes on a small farm. They died when Otto and his brother were very young, however, and the boys were placed in an orphanage.

Records indicate that Otto became a photographer and had a studio in Bellingham. A newspaper article of 1905 stated that the fingers of his left hand were injured when a flash pan he was holding exploded. The article in the paper implied that he was an employee of the paper but there is no confirmation of this.

Otto and his wife (Marie, later shortened to Mary) left Minnesota in 1906 to come to Lilliwaup, Washington where his wife's sister, Lizzie Hollarn (who died of liver cancer in 1912) owned property on the small bay. Their first daughter, Elsie, was born en route in a small town near Denver on October 16, 1906. A picture of the three of them, taken about 1909, is at right.

Otto dropped the second "a" in his last name at about this time. He stated that he felt it was too difficult for English speaking people to pronounce the Germanic version of his name and "Frasch" would be much easier. Only one photo with the original spelling of his name is known: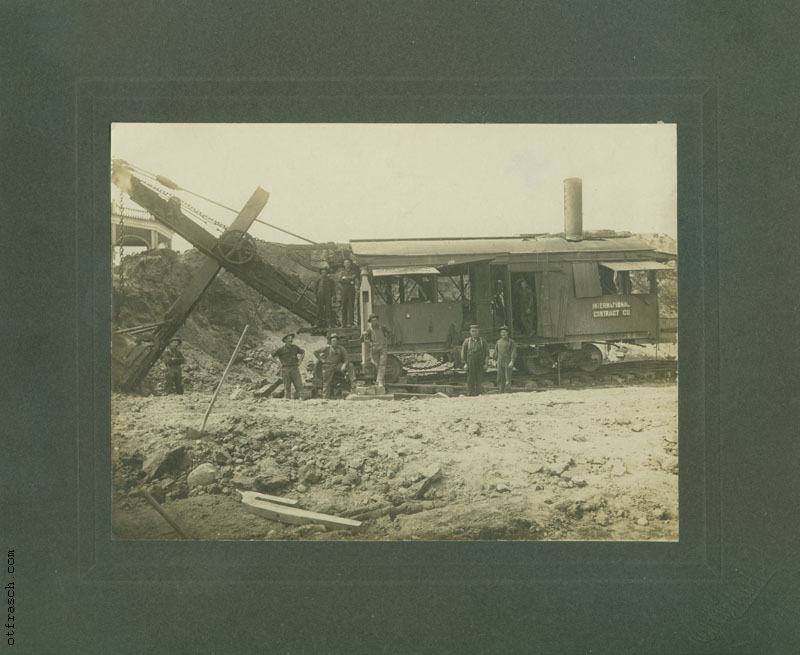 An enlargement of the imprint from the lower right corner is below:


After arriving in Washington, Otto started a small photography business in Seattle, selling real photo postcards (RPPCs). Otto had a strong interest in capturing everyday occurrences on film. His curiosity about current and ongoing construction projects in Seattle and environs and the many photos he took of the Alaska Yukon Pacific Exposition (AYPE) held in Seattle in 1909 made his business profitable. Many photographers of the day copied his pictures and sold them as their own, and it eventually forced him to quit.

Otto and Mary had two more girls, Marion and Ada, before Mary Frasch died in 1918, two days after complications in childbirth. The premature baby died ten hours after birth. Otto placed the girls in a Catholic orphanage south of Seattle as he felt that was the best thing to do. Mary was a Catholic, though he was not. Ada was taken in (though not legally adopted) by the Spauldings, of sports equipment name, and her name was changed to Barbara.

Elsie and Marion were "farmed out" as housekeeping staff. Otto maintained sporadic contact with them through the years.

Elsie graduated from Issaquah High School. She had a book of poems published and she was proud of the fact that it was in public libraries. She was working as a waitress in a roadside coffee shop where she met Floyd Chapman, a truck driver with Brown Trucking Company of Snoqualmie, Washington. They were married in Seattle on June 14, 1926.

Elsie's son Bob Chapman writes that "Otto tracked down Elsie in 1941, when I first met him. Apparently, he kept track of Barbara, at that time living in Hollywood and going by the stage name of Janine Joanne, called 'JJ' for short. Elsie had maintained contact with Marion."

Sometime in the period between his photography business ending (1915 to 1918, though the exact date is not known) and 1941, Otto appeared in vaudeville. Bob Chapman writes that "he had an act that no one could duplicate, playing a guitar while simultaneously playing a harmonica through his nose. He met many famous people of the vaudeville, including Fanny Brice and Harry Houdini. In later years he talked of his associations with vaudevillians, remaining friends with many up to the time of his death." He wrote and sold scripts to movie studios to earn a few extra dollars while on the road selling his products. They were scenarios of events and conversations he witnessed or imagined.

Otto was also an inventor. He designed an overhead door mechanism, still in use today, and was granted U. S. Patent #2,214,229 for it on September 10, 1940. The first figure from that patent is shown below.

He also invented a motor oil cleaning machine and sold it to trucking firms. This was long before additives were introduced, and most oil had to be changed every thousand miles. The oil cleaning machine allowed motor oil to be reused. Haviland "Two Thousand Mile" oil was his nemesis, however, as it could not be cleaned by his machine.

For the most part, Otto spent the rest of his life as a traveling salesman, selling among other things curios, souvenirs, and large wooden salt and pepper shakers. He also marketed and sold "Dubble Lucky Dice" under the name "The Energy Company," of Los Angeles, California. The brochure that came along with the dice solicited games and other inventions that could be patented or copyrighted, or patents that could be marketed. Eventually he started the Triangle A Company, which became the Triangle Art Company because his customers kept writing checks to that name instead of "Triangle A."

He also sold fine leather gloves to men's apparel stores for the Sullivan Glove Co., San Francisco, California. Bob Chapman writes: "I accompanied him into one store to listen to his sales spiel. He was good! He used the right tones of voice and spoke earnestly, as he truly thought the gloves the finest made anywhere.

"While traveling with him (I sold the Triangle Art Co. line of curios and souvenirs, he sold gloves), he told me many stories about the rigors of traveling in the '20s. It took two days to drive from Los Angeles to San Diego. He told the story of getting held up for hours on a one-lane 'corduroy' road over sand dunes. It had turnouts in case another car came by. Two cars met and neither driver would back up to a turnout. It was several hours before one finally relented."

The picture to the left shows Otto and his car in a washout, while the picture to the right shows Otto's car in a turnout on the San Diego-Los Angeles Road, with a wrecked car below. Note the plank surface on the road.



In February 1941 Otto placed a classified advertisement in Desert Magazine, offering to buy desert glass (left out in the sun until it turned purple):

To the best of our knowledge this was the only ad he placed in this magazine; we do not know if it was successful. The address in the ad, P. O. Box 5241 Los Angeles, is the same as the address on the brochure for the Dubble Lucky Dice above.

Otto died in San Francisco on January 24, 1958. No photos or negatives were found in his warehouse - only his cameras. One was a large glass plate portrait camera probably used for his postcards, and the other was a folding Kodak, of which he was very proud since he knew George Eastman, the inventor of the Kodak. The portrait camera is no longer in the family, but we still have the Kodak.

Images in Numerical Order (with larger pictures) § Newly Acquired Images (with larger pictures)
Questions? Comments? Do you have O. T. Frasch photos or postcards to sell? Contact us