Otto Theodore Fraasch (O.T. Frasch) in Seattle
Otto, Mary, and Elsie Frasch arrived in Washington sometime after Elsie was born in Denver on October 16, 1906. They settled in Lilliwaup, along Hood Canal west of Seattle, where Mary's sister Lizzie Hollarn owned property.
We don't know exactly when Otto began taking photos in Seattle. Image 47 (Dedication of St. James Cathedral Dec 22 07) shows crowds in front of Seattle's new cathedral in December 1907, and we have a postcard showing Image 11 (Fourth Ave. Regrade Oct 07) that is postmarked January 26, 1908. It seems likely that he began selling postcards late in 1907 or early in 1908.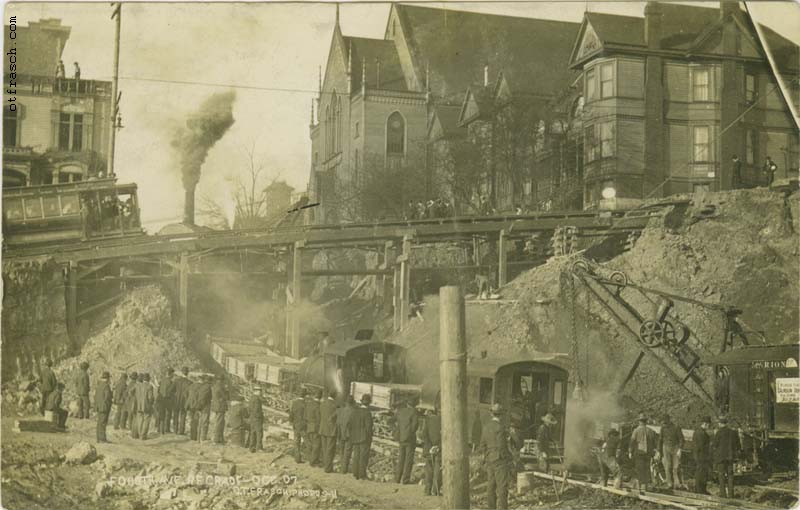 Image 11 - Fourth Ave. Regrade Oct. 07

Most of Otto's photos showed buildings, events, and everyday life in Seattle. Seattle's role in the Yukon gold rush of 1898 and its place as the terminus of the Northern Pacific transcontinental railroad made it a bustling town.
Within Seattle, he took photos of:
Otto also documented some of the major events of the time:
Otto took dozens of photos of the 1909 World's Fair held in Seattle, the Alaska Yukon Pacific Exposition (A.Y.P.E.). These showed buildings, attractions, and people at the fair. They must have been quite popular and sold very well, because they are relatively easy to find even to this day.
Although the Golden Potlatch festivals ran from 1911 to 1913, all of Otto's Golden Potlatch photos seem to show the 1911 festival. The Potlatch Bug introduced in 1912 never makes an appearance. Many of his Golden Potlatch photos were unsigned; perhaps he printed and sold them as quickly as possible before any pirates could copy and print them.
Not all of Otto's photography work was postcards; he printed at least some framed photos and calendars with photos as well. He also did some boudoir photography, which might have surprised his wife.
We don't know how many photos Otto took. There are gaps in the number sequence and many reused image numbers and variants. He printed photos with different image series (e.g. with the prefix 'X'), printed images with multiple times with different image numbers, apparently reused the entire 200-299 number range after the 1909 A.Y.P.E. was over, and assigned image numbers for some subjects more or less at random. For example, some Golden Potlatch Parade image numbers are less than 100 (overlapping several other subjects), while many more are greater than 800.
Eventually the pirates cut into Otto's postcard business, and he quit about 1914 to become a traveling salesman. At this point he disappeared from Seattle history.