Otto Theodore Fraasch (O.T. Frasch) - Later Life
Otto (O.T.) Frasch ran his photography business in Seattle while his wife Marie (later shortened to Mary) and their three daughters Elsie, Marion, and Ada lived in Lilliwaup on Hood Canal, at the eastern edge of the Olympic Mountains. He took many photos of buildings, events, and everyday life in Seattle from late 1907 or early 1908 until 1914, as the Smith Tower was being completed.
Piracy was rampant; other postcard sellers would undercut Otto's prices by reprinting his photos or selling lithographed copies. By the time of the 1911-1913 Golden Potlatch festivals, he seemed to take and print many fewer photos than in 1907-1909 (e.g. the 1908 visit of the Great White Fleet or the 1909 Alaska Yukon Pacific Exposition). The completion of the Smith Tower seems to be the last event he documented.
Otto began a new career as a traveling salesman, and when Mary Frasch died in 1918 after complications in childbirth, Otto placed the girls in a Catholic orphanage south of Seattle. Ada was taken in (though not legally adopted) by the Spauldings, of sports equipment name, and her name was changed to Barbara. Elsie and Marion were "farmed out" as housekeeping staff, Elsie at the Sund Resort in Hoodsport near Lilliwaup. Otto maintained sporadic contact with them through the years.
Elsie graduated from Issaquah High School. She had a book of poems published and she was proud of the fact that it was in public libraries. She was working as a waitress in a roadside coffee shop where she met Floyd Chapman, a truck driver with Brown Trucking Company of Snoqualmie, Washington. They were married in Seattle on June 14, 1926.
Elsie's son Bob Chapman writes that "Otto tracked down Elsie in 1941, when I first met him. Apparently, he kept track of Barbara, at that time living in Hollywood and going by the stage name of Janine Joanne, called 'JJ' for short. Elsie had maintained contact with Marion."
Sometime in the period between his photography business ending and 1941, Otto appeared in vaudeville. Bob Chapman writes that "he had an act that no one could duplicate, playing a guitar while simultaneously playing a harmonica through his nose. He met many famous people of the vaudeville, including Fanny Brice and Harry Houdini. In later years he talked of his associations with vaudevillians, remaining friends with many up to the time of his death." He wrote and sold scripts to movie studios to earn a few extra dollars while on the road selling his products. They were scenarios of events and conversations he witnessed or imagined.
Otto was also an inventor. He designed an overhead door mechanism, still in use today, and was granted U.S. Patent #2,214,229 for it on September 10, 1940. The first figure from that patent is shown below: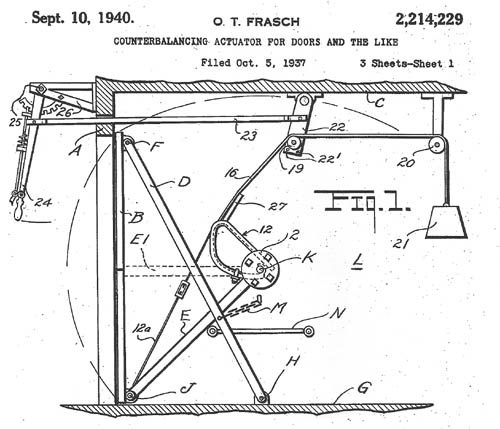 O.T. Frasch patent 2,214,229 fig. 1

He also invented a motor oil cleaning machine and sold it to trucking firms. This was long before additives were introduced, and most oil had to be changed every thousand miles. The oil cleaning machine allowed motor oil to be reused. Haviland "Two Thousand Mile" oil was his nemesis, however, as it could not be cleaned by his machine.
For the most part, Otto spent the rest of his life as a traveling salesman, selling among other things curios, souvenirs, and large wooden salt and pepper shakers. He also marketed and sold "Dubble Lucky Dice" under the name "The Energy Company," of Los Angeles, California. The brochure that came along with the dice solicited games and other inventions that could be patented or copyrighted, or patents that could be marketed. Eventually he started the Triangle A Company, which became the Triangle Art Company because his customers kept writing checks to that name instead of "Triangle A."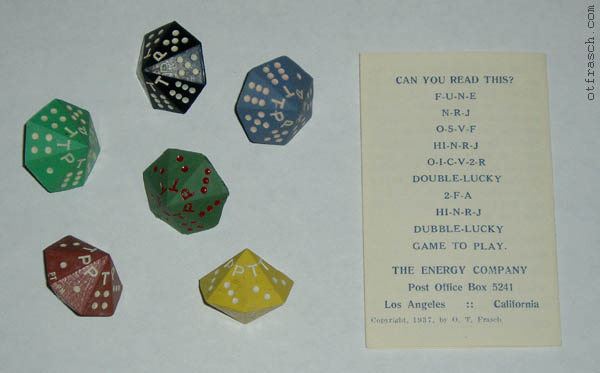 Dubble Lucky Dice and Brochure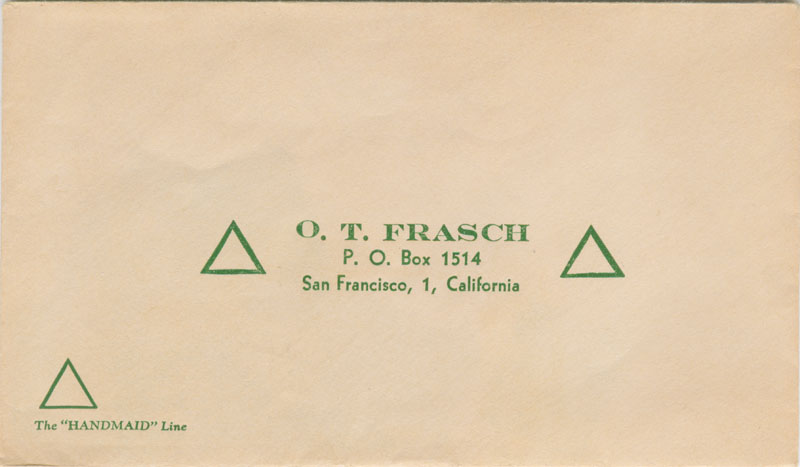 O.T. Frasch Triangle Art Envelope - c. 1950s

He also sold fine leather gloves to men's apparel stores for the Sullivan Glove Co., San Francisco, California. Bob Chapman writes: "I accompanied him into one store to listen to his sales spiel. He was good! He used the right tones of voice and spoke earnestly, as he truly thought the gloves the finest made anywhere.
"While traveling with him (I sold the Triangle Art Co. line of curios and souvenirs, he sold gloves), he told me many stories about the rigors of traveling in the '20s. It took two days to drive from Los Angeles to San Diego. He told the story of getting held up for hours on a one-lane 'corduroy' road over sand dunes. It had turnouts in case another car came by. Two cars met and neither driver would back up to a turnout. It was several hours before one finally relented."
This photo shows Otto and his car in a washout: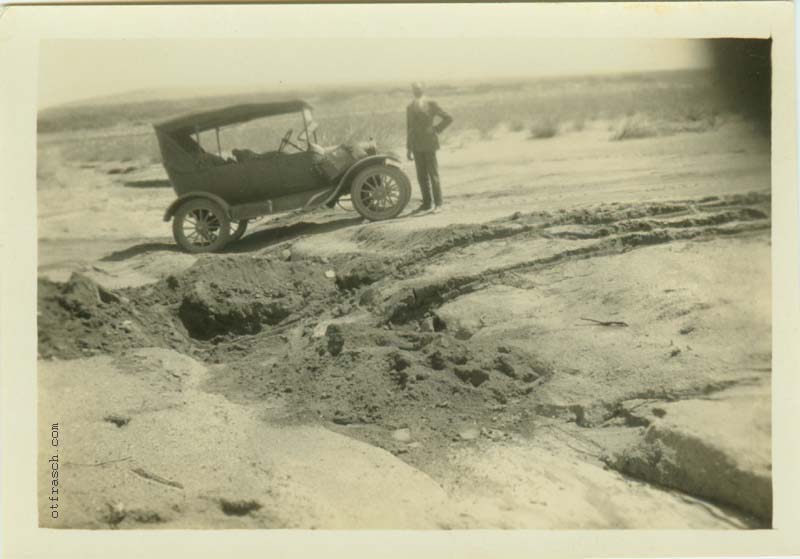 O.T. Frasch and His Car

The next photo shows Otto's car in a turnout on a road, with a wrecked car below. Note the plank surface on the road. We were originally told that this was the San Diego-Los Angeles Road, but recent research suggests that it is part of the road from San Diego to Yuma, Arizona, running over the Algodones Dunes in the southeastern corner of California's Imperial County. Photos of that road match this photo, and we have been told that there was never a plank road between San Diego and Los Angeles.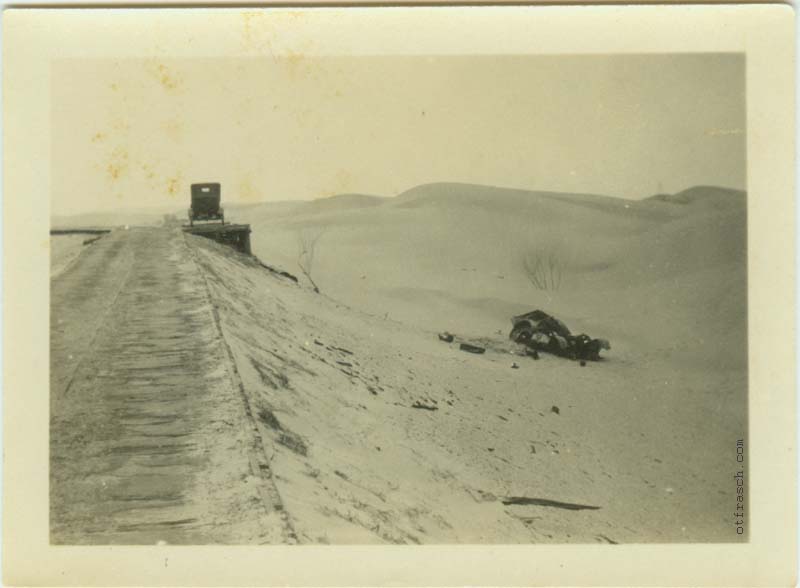 O.T. Frasch Car on San Diego-Los Angeles Road (?)

In February 1941 Otto placed a classified advertisement in Desert Magazine, offering to buy desert glass (left out in the sun until it turned purple):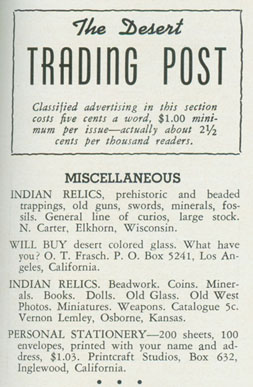 Desert Magazine Ad, February 1941

To the best of our knowledge this was the only ad he placed in this magazine; we do not know if it was successful. The address in the ad, P.O. Box 5241 Los Angeles, is the same as the address on the brochure for the Dubble Lucky Dice above.
In 1947, Otto began marketing "Guamatomic Perfume:"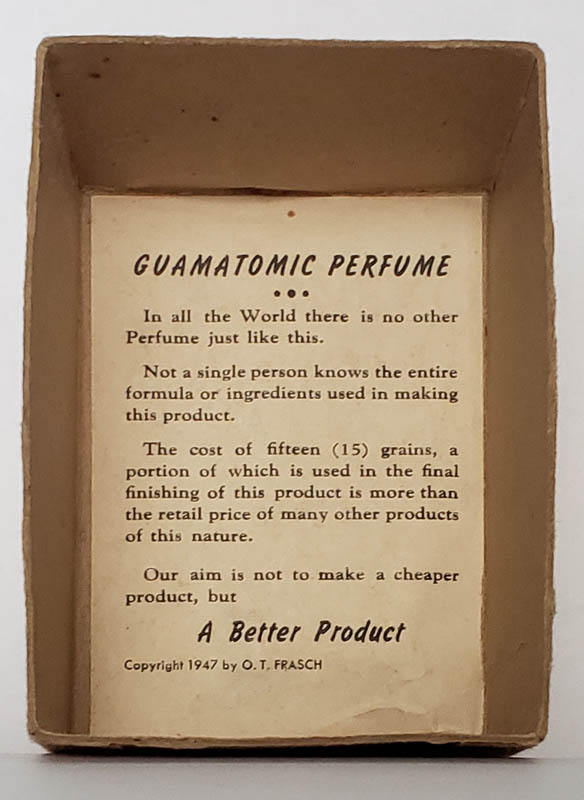 Interior of Guamatomic Perfume Box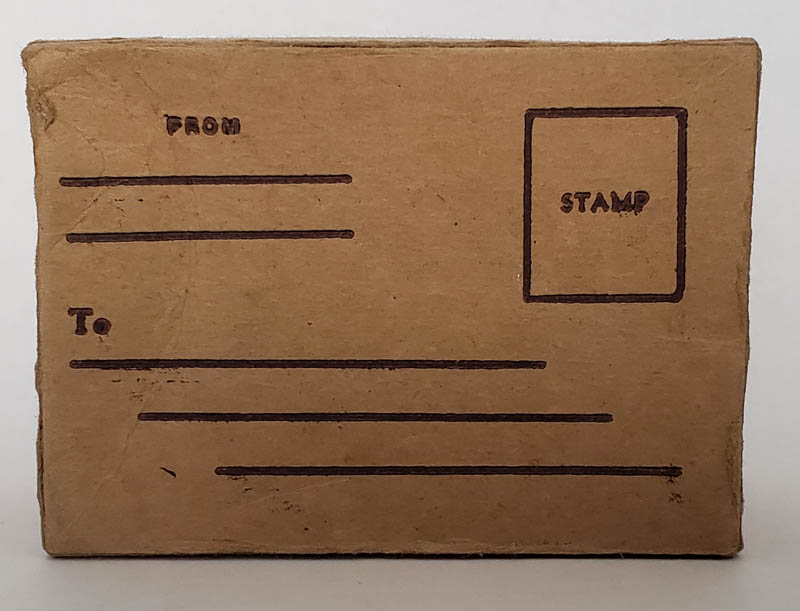 Top of Guamatomic Perfume Box

The breathless prose is belied by the plain brown shipping box. When marketing perfumes, the bottle and box are at least as important as the scent. We do not know what the perfume smelled like.
At some point Otto married again, to a woman named Marvel Walt. We do not know much about her, but she played in a vaudeville troupe with Otto. This photo from sometime in the 1950s shows Otto (back row, second from left) and Marvel (front row, right) with an unidentified member of the troupe (front row, left). The man at the far left is probably Otto's grandson Bob Chapman; we do not know the names of the other two men.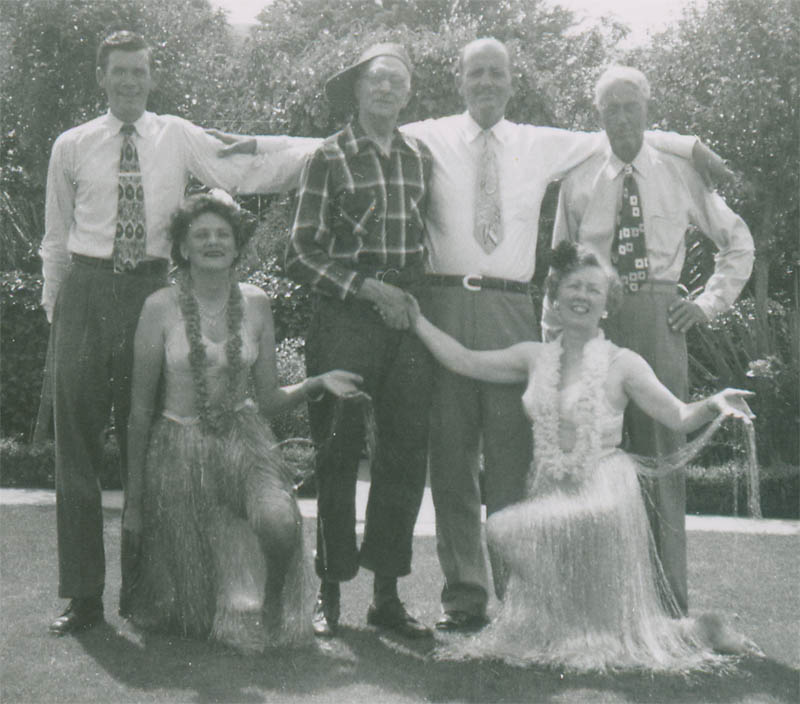 Otto and Marvel Frasch with Troupe