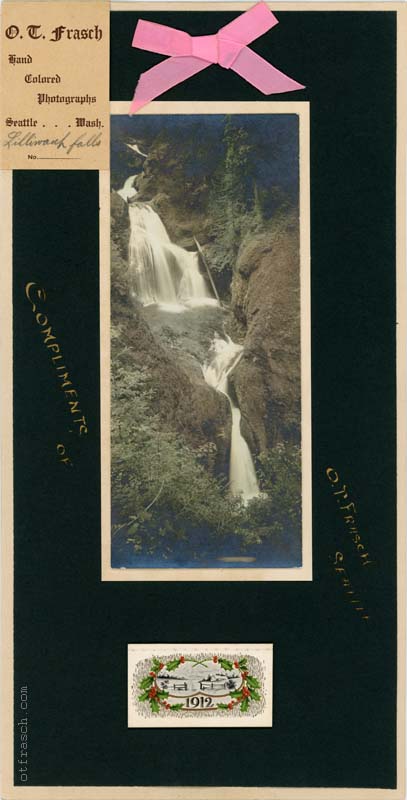 Lilliwaup Falls 1912 calendar

This 1912 calendar with a hand-colored photograph of Lilliwaup Falls was sent as a promotion. The paper tag in the upper left corner says "O.T. Frasch Hand Colored Photographs Seattle Wash." Handwritten on the left and right sides of the image are the words "Compliments of O.T. Frasch Seattle."
This image strongly resembles the picture of Lilliwaup Falls in postcard Image 912 (912 - Lilliwaup Falls Wash.), but there are subtle differences in the water flow. There appears to be less water going over the falls, and the exposure was longer, leading to some blurring of the water surface. The vantage point is almost identical, however.
The calendar was sent to Mr. John Arrow Jr. in Lilliwaup with a return address of "O.T. Frasch Seattle Box 926" in Otto's writing. A postcard of O.T. Frasch in Lilliwaup was mailed to John Aaro. This may be the actual spelling of the last name.